When George Rose, British actor and Broadway star, was brutally tortured and murdered in the Caribbean in 1988, his adopted son, although charged with the crime, never stood trial. He even inherited Rose's house. Now a frail old woman is the only person left to fight for justice. Alix Kirsta investigates.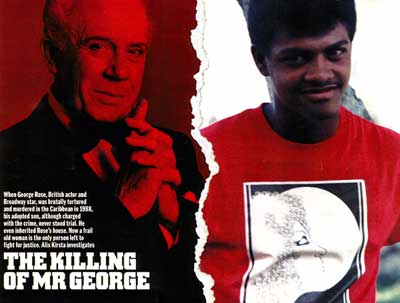 On a chilly, grey June morning in 1988, about 800 people gathered in the stalls of New York's Shubert Theater. The curtain was up, the stage empty and dark except for several working lights. At 11am a pianist launched into With a Little Bit of Luck from My Fair Lady. Soon there were tears, the odd muffled sob, a fumbling for handkerchiefs. The song was one of George Rose's earliest signature tunes: the role of Alfred Doolittle had won him his first Tony as Best Actor in the 1976 New York revival. It had catapulted him into the big league, marking his transition from English Shakespearian actor to Broadway musical star.
It wasn't surprising that George Rose should attract such a turnout for his memorial service. Many of his former co stars were then appearing on Broadway: Linda Ronstadt at the Minskoff, one block down; Christopher Plummet as Macbeth at the Mark Hellinger; Howard McGillin and Patti LuPone at the Vivian Beaumont; Jason Robards and Colleen Dewhurst at the Neil Simon Theater.
Tears welling in his eyes, the veteran producer Joe Papp referred to George Rose as a renaissance figure... a Broadway legend. His was the artistry Henry Fonda once described as a marvel; it was he who, Jack Lemmon claimed, had given him the most pleasure in straight and musical theatre; of whom Katharine Hepburn observed, "It may be my name that brings them in, but it's George Rose that gets them going."' Cleo Lane recalled his erudition and encyclopedic knowledge of music. Lynn Redgrave dedicated a poem to him.
But many at Rose's memorial service felt a sense of unease and expectancy. "It was a strange occasion, inappropriately formal", remembers the playwright and songwriter Rupert Holmes, who had written The Mystery of Edwin Drood as a vehicle for Rose. "The participants seemed uncomfortable, inhibited. While praising the artist, they said little about the man they knew and loved." Nine years later George Rose's friends remain ignorant of the terrible facts surrounding his death, and its aftermath.
Comic treasure
George Rose was a classically trained British actor who made it big on Broadway in every genre from straight drama to hit musicals. A gift for comedy and a broad vocal range brought early acclaim in postwar Britain. The only son of a butcher, born and raised in Bicester, he trained as a musician before enrolling at the Central School of Speech and Drama.
There he caught the eye of Tyrone Guthrie, Laurence Olivier and John Gielgud. George brought a completely new and convincing con­temporary reality to Shakespearian comedy roles that was a revelation in those days. Sit John Gielgud, who directed Rose as Dogberry in Much Ado About Nothing, remembers it as "a superbly accomplished and creative piece of work'; while Daniel Massey says that Rose's interpretation "was simply the benchmark then, and remains so now for Shakespearian comic acting'.
When Much Ado reached Broadway in 1959, Rose got notices any actor would kill for. "Mr Rose's Dogberry makes it unnecessary for anyone to play the part again..."' wrote Brooks Atkinson, paving the way for Rose's move to America two years later. Thirty years later on Broadway he was still getting rave reviews; even the notoriously acerbic New York Times critic Frank Rich, aka the Butcher of Broadway, said, "This man is surely one of the comic treasures of the literate theater.'
In 1988, Rose's three week run in The Mystery of Edwin Drood at Washington's Kennedy Center ended in late April. Fellow actor Howard McGillin had spoken to him on the last night in Washington and remembers Rose's usual excitement about flying out the next day to the Dominican Republic in the Caribbean.
Beautiful & undeveloped
In 1984 Rose had bought a large three bedroom house near Sosua, a small village on the north coast. It had a pool, spacious grounds overlooking the ocean, and was surrounded by lush, green farmland which, as he used to say in interviews, was very like the unspoilt English countryside of his childhood, "only with miles of beautiful undeveloped beaches, palm trees and sunshine". He regarded it as his home and even insisted on a special contract for the tour, entitling him to regular leave so that he could spend more time there. "That's how valuable he was to the management, that they agreed to terms virtually unheard of in the business", says McGillin.
Rose's demands were prompted by a deep commitment to another important role: that of father. All his friends knew of his concern and responsibility for Juan, a 17 year old Dominican boy whom he had adopted legally as his son in 1986, making him heir to his $2m estate.
Overturned Car
Rose arrived in Sosua on Monday, May 2. But in the early hours of Thursday, May 5, his body was found beside his overturned car in a ditch, off the main road near his home. Many of his friends were puzzled by accounts in the obituaries that he had died in a car crash. According to local police, he either suffered a heart attack or fell asleep at the wheel while driving home late. Traces of a white powder, believed to be cocaine, had been found in a packet in his wallet.
None of the facts added up. He loathed driving. Some thought he couldn't drive at all. A close friend, Lynn Redgrave, immediately sensed something sinister. "When I heard the news I just burst into tears. He was my dearest friend, the first person I phoned when I got to New York", she says. "I couldn't imagine any circumstances in which this could have happened. He couldn't drive fast, didn't drink much, never took drugs and hated people who did". Cleo Lame says the mere idea of him driving at night, especially alone, or using cocaine, was inconceivable. "It was a devastating tragedy", says McGillin. "The powerful, commanding presence, that blazing energy, was greater than among the 20 year old dancers. On stage he had a fierce drive to be alive. I couldn't imagine him dead." Fewer still could have imagined him brutally beaten, tortured and murdered in cold blood.
Commotion
Rose's neighbour, Bea Garcia, has lived in the Dominican Republic for over 20 years. The daughter of a New York lawyer and now 61, she used to work in Hollywood as a unit production manager. A disconcerting mixture of coarse tongued aggressiveness, dry humour and open emotion, she might have stepped out of a Tennessee Williams drama. She still feels intense pain and outrage at the loss of a dear friend. Nine years on, she recalls every horrible detail of that day.
Before dawn on May 5, Garcia was waken by the commotion outside her gate. A group of local villagers were yelling and pointing towards the main Sosua to Santiago highway, telling her she was needed up there. "It was something about an accident, and a friend being involved."' Still in nightgown and slippers — "I didn't even stop and put my dentures in" — she leapt into her battered, rusty old Nissan and headed for the main road, anticipating the worst.
About a mile away, several cars, their lights blazing, blocked the road. A large crowd had formed at the edge of a field. As she arrived, a police officer who knew her came over and asked her to identify the body, saying they believed it was her English neighbour, the actor. Guiding the way with a torch, he showed her to the grass verge where the ground sloped gently towards a flat expanse of farmland. A red Suzuki was resting on its right side. The driver had been flung from his seat and lay face down. Garcia asked the policeman to turn him over. His face was dirty, mud mingled with congealed blood, which trickled from gaping wounds on the back of his head. "Mainly it was the look of stark terror in the open eyes. And the left arm, horribly mangled, almost torn out, which seemed raised in self defence, as if warding off blows." It was a nightmarish image that haunts her to this day. Then everything went blank and she only remembers heading back up the main road, shrieking: "No! No! Oh, my God! No! No!"
What do you mean, Accident?
The officer followed, handing her George Rose's wallet and passport. "He said how sorry he was, what a terrible accident. That he must have had a heart attack while driving." She recalls a young doctor joining them, nodding in agreement as he scribbled notes. She stared at the men in disbelief. "I just hollered at them: "Accident. What do you mean, accident? Are you out of your fucking mind." I called them both liars and a disgrace to their profession. Told them they were both full of shit". This was no accident, and they knew it."
Like Bea Garcia, the officers would have noticed instantly that the gear was in neutral, the engine and headlights switched off, and the car barely dented. It was also almost impossible to overturn on such a level surface. Rose had deep wounds, some up to 10cm long. "George had been murdered. But they were trying to deny it." Her mind jumped to the whereabouts of Juan. The officer said he had been tracked down in a bar with his girlfriend and was on his way.
The young man arrived with his arm around a girl with whom he had been having a relationship for the past year. His reaction to events, says Garcia, was exactly as she had anticipated. "He strolled over, saw the body, ambled back casually, not a tremble or a tear. Totally cold. It confirmed all my fears." Not only was she convinced George had been murdered — she was now almost certain she knew who the killer was.
The Sewer
Garcia was George's closest confidante on the island. They shared a passion for animals, literature, jazz and showbusiness scandal. "We spoke a common language, laughed at the same jokes. Like me, he could sing you every word of the most obscure song by Cole Porter, Gershwin or Coward. He trusted me. I adored him. We were as intimate and relaxed together as an old married couple who no longer have sex!" Today, as she fusses and ducks over her family of parrots, cats and dogs on the porch overlooking the dense tropical foliage, it is hard to imagine that this painfully arthritic, small, grey haired woman ever worked amid the pressure and glitz of Hollywood. Wearily mopping her brow on a humid after­noon, she shuffles into the darkened kitchen to make coffee and reminisces in a gravelly drawl about the making of The Wild Bunch, The Misfits, Alfie. Now a widow, she bears the honorary title of colonel at the airport in Puerto Plata, near her home, because of her friendly relationship with the American Embassy.
Today the airport at Puerto Plata is a large, modern complex processing jumbo loads of passengers from around the world. The country maybe a popular package holiday destination, but everything from the moustachioed customs officers lounging about self importantly, cigarettes hanging from their mouth, to the small children with knowing eyes begging at the exit, reeks of opportunism built on poverty. While the beauty of the countryside that enchanted Rose in the 1980s remains untouched, Sosua, with its corrugated tin roofed shacks, squat concrete buildings, garish bars, discos and gift stalls, bears all the shabbiness of Third World tourism.
Garcia calls the town "the sewer" partly in reference to its new sewerage system, which has so far taken two years to build, and partly because she has not been happy here since Rose died. She still blames herself a little for his death. "Look, lady, this is really difficult for me. You're forcing me to confront my demons. We used to row over Juan. I warned him the kid was no good. George told me on his last visit that he finally saw he'd adopted someone who had no feelings for him, that Juan wouldn't make any effort to study or work. He'd set him up in a business on the beach, but all the kid did was hang out. He could read, but he'd never read one book. Yet George hoped to teach him all about music and theatre. He now saw what I'd always warned him of: the boy was only interested in getting new trainers, CD equipment and other expensive presents — and in his inheritance."
Shooting his Mouth Off
Two days before he died, Rose had come to Garcia's house to ask her to drive him to the nearest large town, Santiago, 60 miles away. He needed to buy paint to decorate the guest room. His doctor was coming to stay. And he wanted to see a good lawyer, because he had resolved to change his will immediately. "I said I'd take him tomorrow. It was terribly hot and humid. I'd had a long, exhausting morning's work and wasn't feeling great. I made an appointment for him with a lawyer for a later date. He left, all agitated, saying he wanted it done now. I imagine he insisted someone else drive him, probably shooting his mouth off to everyone about his plans."
After Garcia identified Rose's body, they hauled it onto the back of a truck and took it to Puerto Plata Public Hospital, where she and Juan were instructed to buy a coffin. In the tropics, burial normally takes place within 24 hours because of rapid decomposition. An hour after leaving the hospital, she was asked to come to police headquarters for questioning. By her own admission, Garcia's loudmouthed pugnaciousness incurs both dislike and respect. Enemies call her a meddlesome busy­body. The last thing the locals wanted, just as tourism had begun to take off, was publicity about attacks on foreign residents, let alone any scandal about an actor who was involved with a local boy. Then, as now, the whole PR image of the island centred on its alleged stability and safety in contrast to neighbouring Haiti.
Garcia spent eight hours without food, water, cigarettes or a proper lavatory. "It was as much to stop me talking about the accident as to find out to whom I might already have spoken." What they didn't know was that she had already managed to phone an NBC newscaster and a New York Times correspondent at their homes to tip them off. It was just as an officer pointed a cocked pistol at her head to frighten her that a phone rang in the room upstairs. An official shouted: "It's The New York Times on the line for Mrs Garcia."
Now they had to let her go. The next day the US embassy lodged a formal complaint with the Dominican government and offered Garcia 24 hour armed protection; the local chief of police was transferred to another region. Under mounting pressure from Garcia, the US embassy and Rose's lawyer and executors, the police finally launched a homicide inquiry. Hampered by inadequate laboratory facilities, the local pathologist, Dr Sergio Santa Valdez, had been unable to complete a full autopsy. Rose's estate paid for tissue samples to be flown to Miami, where American examiners conducted forensic tests. The subsequent Dade County coroner's report confirmed that Rose had died from massive blows to the head. Traces of cocaine were found in some tissues, but not his brain, which suggests it had got into his body not long before his death and might have been used on him by his attackers to revive him during the torture.
Adopted Son Charged
On May 12, the police formally charged Rose's adopted son, Domingo (Juan) Vásquez, the boy's natural father, Juan Antonio Vasquez, an uncle, Maximo Vásquez Padilla, and Luis Manuel Toribio (known as El Gringo) with Rose's murder. In a bizarre spectacle, the men were paraded in front of the local press by Colonel Aquiles Cruz Gomez of the Dominican National Police, where they confessed plotting to kidnap Rose. They had taken him to a field, tortured him for eight hours and bludgeoned him to death, afterwards faking the crash.
Juan claimed he had been having a sexual relationship with Rose while living in his house for the past four years, and had become insanely jealous of another boy who hung out at the house and with whom he accused Rose of flirting. He said he planned the murder with his natural father, who enlisted the help of the other two. Juan lured Rose into going for a drive, passing a spot where the others were waiting, armed with a gun bought by Juan, who then left the scene. The father said he "sought revenge on the American Rose because of his homo­sexual activities, since he was hurting a lot of boys... in addition to mine, whom he had already prostituted since the age of 13 to satisfy his sexual desires." As an after­thought, both also admitted to a fear that Juan was about to be disinherited.
For two weeks the US tabloids spewed sleaze, sensationalising the gay element, ignoring the contradictory statements, and glossing over the fact that Rose may have been murdered out of pure financial greed. All this was taken from gossip in Sosua following the confessions of the accused. The last report was of his memorial service at the Shubert Theater.
Perplexed and Shocked
In New York, the showbusiness community and those closest to Rose who saw him shortly before his death remained perplexed and shocked by the death, not knowing what to believe. Rose was an intensely private man who never discussed or paraded his homosexuality so the tabloid allegations of sordid goings on in the Caribbean were shocking to his friends. The man they knew had a legendary knowledge of music and theatre which commanded respect throughout the profession. Younger actors held him in awe, claiming him as a mentor and inspiration. Lynn Redgrave claims he taught her all she knows about playing comedy.
He was loved, above all, as much for his warmth and humour as for his eccentricities. He lived in a converted Greenwich Village loft with a 60lb lynx, a South American wildcat, a caracal and numerous other cats and dogs — all of which accompanied him on tours in a mobile home. His spare time was spent reading, cooking and playing opera, classical music and jazz from his 17000 records. His entire existence was the theatre. "When I have a stage to go on, it's like putting a fish in water. The more you work in the theatre, the more you feel safer in there than anywhere else" he said in an interview several years before his death.
Altruism
The fact that he openly expressed paternal pride and affection for Juan, referring to him in "the noblest of terms" as many put it, caused few to doubt that this was a father son relationship motivated by altruism. Having no immediate family or permanent partner, Rose's solitary offstage life had suddenly acquired a new sense of purpose.
Lynn Redgrave noticed that adopting Juan caused his whole persona to flourish. "For the first time I saw him totally happy and relaxed, smiling contentedly. He said he never realised how lonely he was before. Everything had revolved around his animals. Now he'd say, I have what you've got: a family, someone to care for. That responsibility, doing everything for the boy's welfare and happiness, gave him profound pleasure. He talked of Juan with such pride, how he was growing up to be so nice and respectable, that he was running a watersports business George had invested in. Like any good father, he wanted only the best for his child."
Others, like Cleo Lane, sensed a down side. In her Upper West Side penthouse she recalls that Rose's frustration began when they costarred in Drood. "He was angry and upset that the US authorities wouldn't issue Juan with a permit so he could bring him over. The boy was 17 spending all his time with his girl­friend. George wasn't jealous, nothing like that. He was like any anxious parent when they've invested a lot in their kid's future. He hoped the boy would go far if he applied himself."
Very 'Cool' Gay
Although she speculates that it could have begun with sexual attraction, she saw it ended very much as a non sexual relationship. "George was a very 'cool' gay, so you couldn't be sure, but he was acting like any doting, worried parent."
Some thought he was courting danger by owning property in the Dominican Republic. The few friends who visited him there disliked the place. His lawyer remembers a bitter dispute between Rose and a local couple who kept house for him.
He revealed that some of the animals he kept in Sosua had come to a grisly end. "His pet parrot was found with its head cut off. Then his dog was killed by a car' recalls Redgrave. Rose had also found one of his cats hacked into quarters, and the pieces nailed to a tree, suggesting some sort of voodoo warning. "I told him he was risking his life, that he didn't understand the culture and was mad to want to live in such a dangerous place:' says the writer and actor Trader Faulkner.
Of course, danger may have been precisely what drew Rose, lover of the wild and exotic, to the island. "Part of George's passion as a performer expressed itself in a black, Goyaesque Spanish humour. Ar its darkest, that passion led him to court danger, like a moth drawn to the light of the demonic," observes Faulkner. With hindsight, some see Rose's violent end as the tragic yet inevitable outcome of a lifelong attraction to darker forces.
A close friend, New York psychiatrist Dr Donald Mayerson, recalls that in 1961 Rose was living in an apartment on 147th Street in Spanish Harlem, "quite impervious to the risks of violence and in love with the music, culture and Street life". In his 1964 diary, Kenneth Williams mentioned dining with Rose, who raved about the Puerto Ricans, expressing his fascination with their "animal innocence". Daniel Massey, who was deeply upset at Rose's death, believes that deep in his psyche he may have had a fatal penchant for violence. "Think of those jungle cats that roamed his apartment in New York."
Rubbish Strewn Cemetary
Nevertheless it was shocking for many New York friends to hear recently that this warm and generous man, whom Paul Scofield describes as having "a smile like a big log fire", was buried in the corner of a derelict, rubbish strewn cemetery near Sosua. The sign above the squat cement chapel says Dios es Amor, but God and Love seem far removed from this dump. The graves, mostly mounds of earth identifiable only by crosses of stained cement, wood or sticks, names of the dead hastily scribbled or scored by knives, lie haphazardly on the uneven ground amid rusty tools, piles of stones, uprooted plants and other refuse. But Rose has no identifiable grave.
When Bea Garcia took me there, we found not a stick or stone marking the spot. "He could be anywhere here:' she croaks hoarsely, indicating a rough patch of ground, all mud clods and weeds, bordered by a brick wall and trash cans. "They just dumped him in the garbage, honey, and hoped everyone would forget. Maybe he wasn't a big enough star," she says bitterly, stressing that all the talk about the "other" boy mentioned in the press being George's lover is rubbish. "He was just a sweet, poor kid who hung out at George's because he loved the animals and felt happy there."
That Rose's former British colleagues should have remained in the dark about his fate is completely understandable, since the case wasn't widely reported. The actors Ian Richardson and Sylvia Syms heard about it long after Rose's death, through backstage chitchat, and cannot understand the lack of coverage. "I heard he'd come to a sticky end, but thought he'd been murdered on the streets in New York" says Syms. Rose's obituary in the British press reported only the car crash. In Bicester, his home town, it took grieving friends and relatives six weeks to uncover the truth, and until the end of 1996 they were unaware where or how he was buried and what happened to the killers.
"I do not think that full justice will ever be achieved." said Constance Harris, Rose's closest childhood friend, when she heard the full account. She may be right, since the Dominican authorities appear to have washed their hands of the case. Almost a year after the four men were charged and imprisoned, Juan was released on bail. He had retracted parts of his original statement, claiming police coercion. Neither he nor the others were ever put on trial or sentenced. His father also changed his statement, minimising Juan's role in the killing and claiming that Rose's death was accidental.
Inheritance
Juan, who would have lost his inheritance if he had been convicted in the Dominican Republic of the murder received the house in Sosua in a settlement reached between him and the alternative beneficiary to Rose's will — a small English church. To completely exclude the bequest to Juan, a New York court would have had to be satisfied that he was involved in the murder. In the absence of a conviction in the Dominican Republic, it would have required a civil trial before the New York court on the facts of the murder, on evidence that was only available from the Dominican Republic. Furthermore, the New York court would have ordered that Juan's interests, as a penniless beneficiary, should be represented by a New York lawyer funded out of the estate. Such a trial would, over a long period, have made large inroads into the estate's assets. "It was cheaper this way, if not just" says the executor of Rose's estate who does not want to be named.
As a result of the settlement the main beneficiary was now to be a small 12th century parish church at Bucknell, a tiny rural hamlet near Bicester where Rose's mother was born and where his grandparents are buried. As the American courts treated this as a charity, entitled to receive the bequest free of tax, it was also important to settle any dispute quickly, because tax free bequests have to take effect within a fairly short time. A simple plaque was erected at the church, out of trust funds, last Easter.
Using the proceeds from the sale of the house, put at about $250,000, Juan fled to America, using his legally adopted names John or Domingo Rose, and went to ground for seven years. Although he returned to the island early this year and is living 30 miles from Sosua, there has been no attempt to question or detain him. The other three accused with Juan were kept in jail, despite yearly appeals to be released.
According to a US embassy spokesman, 80% of prisoners in the Dominican Republic are awaiting trials that may never take place, although money and influence can often secure their release. That Rose's killers remained behind bars was due largely to Bea Garcia's guts and tenacity: "When a friend is murdered, it doesn't mean the friendship disappears!"
She appeared as the sole witness each time the men's requests for release came up in court, and testified to their guilt, whereupon their requests were turned down. Now, however, it seems that Garcia's role as avenging angel has ended: this March, after Juan's return to the island, all three men were released, almost certainly for good.
With tourism a prime source of income — Slob of Britons holidaying in the Caribbean today head for the Dominican Republic — the last thing the authorities want is more publicity over the case. "The Rose murder was to the Dominican Republic what the Menendez case was to America. It was badly handled and put a lot of people in a very poor light. Besides, many people thought he was a deviant who got what he deserved:' says a former US consular official.
Enquiries about what basis there may be for the men's release are dismissed by him with good humoured sarcasm. "It isn't at all unusual. Some prisoners go free for no apparent reason. Others rot there for good, even if they are innocent, or have done more time than the maximum sentence for their crime, or even if they were freed by a court. Here it's business as usual, even if a very dangerous criminal gets out."
Corruption
Despite the election last year of a new president, Leonel Fernandez, reportedly committed to cleaning up such corruption, the present US consular agent in Puerto Plata believes nothing will change. "You cannot compare the justice system here to that in the States or Britain. Here it operates according to the old Napoleonic code, involving a lengthy process before a trial can be held. The backlog is immense. You couldn't get through it all, and new criminals are being caught all the time."
Increasingly frail, Bea Garcia doubts anyone will bother to fight for the accused to be brought to justice. "Hey, I'm tired of fighting. It's a tremendous amount of energy to expend alone!"
Despite ill health, she continues her administrative work at the airport. There is no doubting that this ailing woman carries clout. As she escorts me to the plane, skipping queues for passport control and checkin, to an upgraded first class seat, other officials salute and greet hen "Buenos dias, Coronal Garcia!" At least, she hopes the authorities may cooperate in having the body exhumed, and that Rose will have a decent reburial. "Before I die I'd like George to be buried decently, a proper memorial erected. And if Juan was tried, then I'd die real happy!"
Her wish is unlikely to come true. I telephoned Dr Juan Ventura,the former Judge of Instruction on this case,responsible for gathering all evidence in a criminal case and for deciding,on the basis of that evidence,whether to order a trial. Speaking through his assistant,who speaks some English and acted as an
interpreter, Dr Ventura claimed the case,including any decision as to a possible trial, was now out of his hands and had gone before the Superior Tribunal in Santo Domingo. Dr Ventura however admitted receiving a recent anonymous phone call offering him $10,000 to ensure the imprisoned men were released from jail. However,he stressed that he refused the bribe because "I do not operate in the normal way". Dr Ventura's finally also admitted to me: "the adopted son [of George Rose] was the author of the crime".
Back in New York, several actors chided me for not doing my homework in tracking down Rose's memorial. They mentioned a George Rose Garden located in the middle of Columbus Circle. I went there. It exists. Large and impeccably maintained, its shiny plaque is prominently displayed. But the George Rose commemorated is a young employee of the New York Parks Department who died around the same time.
This article in its entirety is copyright © 1997 Alix Kirsta.
First published in the Sunday Times, 25 May 1997.